England v Pakistan - day one as it happened
Morning everyone. Sitting comfortably? Then let's begin.
I've arrived just in time for the toss. England have won it and chosen to have a bat. Interesting decision that. Strauss is going straight into the deep end. Such is the disparity between the quality of Pakistan's batting and bowling that he surely must have been tempted to stick the opposition in regardless. Salman suggests that as there's a little cloud cover overhead it may not be such a bad toss to lose, the merest hint of a smile spreading around the corner of his mouth as he talks, though he adds that he would have chosen to bat first himself had he won as he agrees with Strauss that the pitch looks a little dry.
The team news is that there is not much by the way of team news: England are exactly as we expected them to be, with Tim Bresnan the man to miss out. They look like this: Andrew Strauss, Alastair Cook, Jonathan Trott, Kevin Pietersen, Paul Collingwood, Eoin Morgan, Matt Prior, Graeme Swann, Stuart Broad, James Anderson, Steven Finn.
And Pakistan are unchanged from the line-up that won at Leeds last week: Salman Butt, Imran Farhat, Azhar Ali, Umar Amin, Umar Akmal, Shoaib Malik, Kamran Akmal, Mohammad Aamer, Umar Gul, Danish Kaneria, Mohammad Asif.
While you stew on that, I'm going to pop off and grab the first of the many cups of coffee that will sustain me through the next three weeks.
A classic case of the commentator's curse here, from David Wall: "Before the action starts here, what do you make of the current score between Sri Lanka and India? I'm always pleased to see Tendulkar getting a score but that's ridiculous, isn't it? Murali must have been talking to the groundsman in Columbo before making up his mind to retire in Galle. If he'd had to bowl there he'd have been finished for all forms of cricket and not just Tests." And no sooner did that email land than the news flickered up in the top corner of my computer screen: SR Tendulkar c †HAPW Jayawardene b Dilshan 203 (347b 23x4 1x6) SR: 58.50. Preposterously, that's Tendulkar's 48th Test century.
"You having a holiday then?" asks the nosey Ally A, "I thought the series was four tests over four weeks. Where are you going? I only ask because I'm heading off for a holiday in three weeks, and forewarned is forearmed..." Not so much a holiday as a honeymoon old stick. Which means I'm going to have to squeeze a stag in somewhere in the midst of this series. I suspect it'll end being a quick pint of lunchbreak 'liver-compromiser' with Rob Smyth, such is the planning I've put into the thing...
Just in case you missed it and have a yen to read something a little better than the baloney I'm going to fill the next few minutes with, go and have a look at Mike Selvey's majestic piece on .
"Is there any news on the return to fitness of Graham Onions?" asks Chris Rose, mindful of England's forgotten man, "With Shahzad & Bresnan hovering around the squad, I'm wondering about the likely seam attack we'll take on the winter tour that shall not be named." The only thing Onions is going to be opening any time soon is a . But Durham coach Geoff Cook hopes that Onions will be back bowling again in September.
A quick spot of retrospective apostrophe editing (Leed's!?) and we're ready to start. Here come Strauss and Cook, windmilling their bats around their heads as Jerusalem blasts out around the ground. Mohammad Aamer is marking out his run, and Strauss is scratching out his mark in the crease.
A quick word from our friends over at the Wisden Cricketer, who are looking for a little help: 'The Wisden Cricketer is looking ahead to the Ashes by putting together a piece with your stories of travelling Australia - or watching the series in extraordinary places. They want to know about people who have re-mortgaged their home to travel, any odd methods of transport to get there, things that have gone wrong on the way and anyone who has fallen in love with cricket having been reluctantly dragged along for the ride, watched the Ashes up a mountain in South America by fastening an aerial to a tree etc. If anyone
has such a story, email Daniel Brigham on [email protected]"
1st over: England 2-0 (Strauss 2 Cook 0) England's first runs of the day come from a thick outside edge to third man. otherwise it's an uneventful first over as Aamer struggles to settle on the right line, spraying the ball either too wide or too straight to trouble.
2nd over: England 12-0 (Strauss 11 Cook 1) Asif starts at the other end. Simon Katich recently picked Asif out as being the best bowler in the Pakistani attack, despite all the hoopla over Aamer's form. His first delivery swings back onto Cook's pads, and is tapped away for a single. His second does exactly the same thing, and Strauss stands up on his tip toes and flicks four runs away square. Butt duly moves a man over to fill the empty space that Strauss had just exploited. This pitch look sluggish, the ball barely bouncing above thigh-high. Ohh. That's a brute of a ball. pitching on middle and off and swinging way back to hit Strauss's pads. The Pakistanis appeal, but umpire Hill shakes his head. Hawkeye shows that the ball moved so much in the air it would have beaten leg-stump, so Pakistan were right not to ask for a referral. The next delivery is straighter, and Strauss pushes three runs down the ground.
3rd over: England 12-0 (Strauss 11 Cook 1) "Honeymoon?" says Chris Purcell, "really?" That must be one of the most efficiently insulting emails I've ever been sent. Aamer's speed is up in the mid 80s now, and he has settled down on a line outside off-stump. Strauss watches the first five deliveries sail by. Well, I say sail but the third ball came perilous close to his outside edge. The sixth is the inswinger, as Athers spots, but it doesn't quite come out right.
4th over: England 14-0 (Strauss 11 Cook 3) Cook was Umar Gul's bunny the last time these two teams played in England, back in 2006. He got him four times in seven innings. I wonder if the Pakistanis remember that? The sixth ball swings back in towards leg, and Cook leans over to the off and threads two runs through a gap in the field at mid-wicket.
5th over: England 22-0 (Strauss 15 Cook 3) Strauss tries to leave the ball but gets into a terrible tangle and ends up toe-ending four runs through the slips. And that's a drop! And a bad one too. Oh Kamran! That's just awful wicket-keeping. It was a lovely delivery, swinging away after pitching on off stump. Strauss had to play at it, but the ball jagged back and snicked off the outside edge. It coasted through to Akmal at waist height, went into his grasp and then just popped back out again, as though his gloves were made of rubber. Strauss should have been out there. Pitiful wicketkeeping. Akmal had moved to early over to the leg side, and then had to shift back the other way when the ball took the edge.
6th over: England 22-0 (Strauss 15 Cook 3) "Are you going to put a link to your wedding list up on the OBO?" asks Will Frost. "I am not saying that I or any other OBO'er would actually buy you anything but I wouldn't mind a nose around to see if it it's all mung beans and birkenstocks." Sadly I allowed my fiancee to take control of the wedding list, and as a result it is mainly filled with cutlery. Do we really need four mustard spoons? Yes, apparently we do. Remember the first day of the first Test in 2006? Pakistan dropped five catches and England ended up making 558 in the first innings. A maiden over this one.
7th over: England 23-0 (Strauss 16 Cook 3) A single from Strauss puts Cook on strike against Aamer for the first time today, and the very first delivery he faces draws forth a confident lbw appeal from the Pakistanis. It was just a touch too high when it hit to convince. "I'm hoping todays OBO will fill the void left by the Tour de France. My friend's hoping for the same thing and we've got a pint riding on who can get the first comment printed," says somebody whose name I have temporarily, and maliciously, misplaced. "Do I need to come up with anything witty to get a look in today, or will this suffice?" I'm guessing you can figure that one out for yourself.
8th over: England 37-0 (Strauss 21 Cook 7) Strauss flicks four more away to the leg side, and then edges a single away to the same place. Cook looks even less sure of himself, and the next delivery snicks along the floor through the slips for four. The next ball disappears down the leg side for four byes. Bizarrely, Kamran made no attempt to field that delivery at all, but stood still and watched it whizz by. A single from the final ball completes an expensive from Asif.
9th over: England 37-0 (Strauss 21 Cook 7) "Have you managed to accidentally' book a honeymoon to Sri Lanka or somewhere else playing test cricket at the time?" asks Geraint Morgan, "or did you look around and see the only test match on was Afganistan vs Canada." Actually the good folk at the charity did invite me out to Kabul in September to attend a cricket camp for kids, but for some reason my fiancee just wasn't convinced that it would be a good way to spend the honeymoon.
WICKET! Cook 8 c Farhat b Aamer (England 42-1) Cook goes! This time the edge flew to first slip rather than the 'keeper, and that made all the difference. Imran Farhat took the catch, and Cook goes. Again, it was a beauty of a ball, straight enough to force the batsman to play but swinging away just enough to take the edge. Cook was caught loitering back in his crease, and then angled his bat at the ball. Here comes Jon Trott. Interestingly, Aamer does not bother waiting for Trott to go through his laborious pre-delivery routine but steams in and serves up a fizzing inswinging yorker. Trott drops his bat just in time to get a little inside edge on it before it hits his pads.
10th over: England 42-1 (Strauss 23 Trott 0) "There seems a clear symmetry to this morning's proceedings," suggests Duncan Timson, "what with Strauss being dropped and your good self getting married... a large amount of good fortune after a period spent scratching around unconvincingly." Strauss struggles to keep out Asif here. At one point he walks down the wicket to try and counter the swing, only to pat the ball out to mid-wicket. The sixth delivery is a jaffa, and shoots past the outside edge. The real contest though, is happening at the other end...
11th over: England 43-1 (Strauss 23 Trott 1) Aamer slides the first two deliveries down wide of off stump, dragging Trott across his crease. The inswinger will be on its way shortly I'm sure. The third is straighter and skims the outside edge. My word this is good bowling. The ball is really fizzing off the pitch now and Warne is waxing lyrical in the commentary box - "this boy really does understand left-arm fast bowling." Like Warne, Paul Jaines seems to be a man with no shame: "Do what I did with my wedding list - we put loads of crap on the list (pots, pans etc, but not mustard spoons) and then after auntie Doris et al had all paid for the crap stuff on the list at the department store we then got the department store to swap it aforementioned crap for bottles of fine wine. I got at least 8 cases of the stuff out of this cunning plan."
12th over: England 44-1 (Strauss 23 Trott 1) If you're wondering where all the cool kids are, you might find them over on the , this summer's cult craze among cricket fans down Hoxton way. Umar Gul is on now, Asif taking a spell after delivering five overs for 22. Gul seems to be having some trouble getting his run up right, and pulls out of his first two deliveries. "It's not the fact that you're getting married that's annoying," says Jonatahan James, "it's your blatant disregard for your lonely but loyal OBOers. You used to be one of us and now you decide to go all commercial and sell us out on the FIRST DAY of a test. I've never felt so alone."
13th over: England 46-1 (Strauss 24 Trott 1) Matthew in Howdon is another man making a plea for help: "Knowing that most people reading this are at work, I have a question. I currently sit next to an annoying tool (let's call him Steven) and he won't stop butting into my conversation with the work colleagues I actually get on with. What makes it even more annoying is that he then lingers for about 30 seconds after the conversation has been killed (by him). I normally let it slip but he just called cricket a waste of time so now I need to stop him talking to me. Any ideas?" Back in the middle it transpires that Asif has simply switched ends, which seems a strange strategy given that Aamer was bowling so well.
14th over: England 52-1 (Strauss 29 Trott 2) Having spent the last two overs watching Strauss bat from the non-striker's end, Trott finally gets a share of the strike and adds a single to his score. Gul is continuing. I really don't understand why Aamer has come off after he was bowling so well. That's the shot of the day so far from Strauss, crisply driving four runs through long-off. Drinks! Hallelujah!
15th over: England 56-1 (Strauss 29 Trott 6) "Is Matthew Howdon seriously asking the OBO crowd for advice on social interaction?" wonders Olly Bevan, "My sense is that the majority of us are more akin to 'Stephen' (i.e. awkwardly interfering in conversations and interrupting social interactions) than to the man with loads of 'friends' at the office." Whatever next? An attractive stroke from Jon Trott perhaps? And there he goes, thumping four through the covers.
16th over: England 64-1 (Strauss 34 Trott 9) "Did someone say Bull is getting married?" gasps Simon Rhoades, "Frankly, I'm appalled that this celebrated bohemian iconoclast is supporting such a bourgeois institution. Still, we can console ourselves with the certainty that the ceremony will be suitably pagan and non-traditional. Something on a stormy hilltop at the confluence of a half-dozen ley lines involving isiZulu praise singers, Andean fertility rituals and a couple of garlanded yaks from Ulan Bator, I would imagine." Yes, Zulus, yaks, ley lines and mustard spoons. And mung beans. Strauss is really ticking now - Gul drops just a little short and Strauss wallops a pull away square for four. The boundary fielder should have stopped it, but dived over the ball rather than onto it. Gul scowls and swings his fist through the air in frustration. His next ball is better, and beats Strauss' edge. A single puts Trott on strike, and he slaps a drive out towards cow corner for three. Pakistan look less than half the threat they did when Aamer was in the attack.
17th over: England 66-1 (Strauss 35 Trott 10) 75 minutes into the match and Danish will get his first bowl. "I actually take some comfort from the fact that even people like you can and do get married," says Kat Petersen, before thinking about what she has said and hastily adding the lie, "I mean people dedicated to the OBO rather than any personal insult. There's hope for us all yet. Because I'm certainly not going out to buy my own mustard spoons." Kaneria's first ball is wide and turns wider. His second is barely any better, and Trott pats it away square for a single. He is finding plenty of turn, but hasn't got his line or length right yet.
18th over: England 72-1 (Strauss 41 Trott 10) "Matthew in Howdon should correct his irritating workmate's grammar," suggests Jenya Romanski. "People tend to suspend unnecessary conversation with people who do not validate them." You're quite right Jenya. I've been ignoring John Starbuck's emails ever since he wrote in this morning to complain about my typos. Strauss is looking in ruthless mood today. He has matured into the kind of player that you really cannot afford to drop. The reprieve only seems to make him stronger. Again Gul's length is a little too short, and Strauss crashes a vicious cut away for four past point. A soul-sapping shot.
19th over: England 79-1 (Strauss 44 Trott 13) Kaneria floats up what will almost certainly be the worst delivery of the entires series, a looping chest-high wide full toss, which Trott, despite his surprise, manages to smear away to mid-wicket. The acute embarrassment Kaneria feels after offering up such filth provokes him into following up with a fierce leg break, which pitches on middle and rips past Trott's dangling bat. "Perhaps Matthew in Howdon could clamp his hands over his ears and grimace after every conversation with this Steven character and use half a bottle of hand gel every time he picks anything up from his desk," writes Alex Walsh, "I've been doing that for years with all my colleagues and goes someway to explaining why, at 12.15, I have yet to speak to a single person in the office."
20th over: England 79-1 (Strauss 44 Trott 13) A maiden over from Gul. I'd write more but...
REFERRAL! Trott 13 lbw Kaneria (England 83-1) Up goes umpire de Silva's finger! Trott is given out to the first ball of Kaneria's over. Immediately though, Trott asks for the referral. And the replays soon reveal that he got an inside edge on the ball. The crowd cheer, the umpire crosses his arms and Trott carries on. So that is decision overturned. Two balls later, and Trott is forcing four away through the on side. "Regardless of the accuracy of the decision, this review system is a disaster" says Roy Allen, who I suspect had prepared this email earlier, so quick was it to arrive in my inbox "I do not believe that getting every decision 100% correct is what matters. Far more important is playing the game in the right spirit. Allowing a batsman to appeal a decision giving him out is totally alien to cricket." I agree Roy, but many more don't.
22nd over: England 87-1 (Strauss 45 Trott 20) Butt leaps to his right at mid-off to cut off a firm drive from Trott. That's the first decent piece of fielding Pakistan have produced today, and it has come from the captain. If only a few more of his team could follow his example.
23rd over: England 91-1 (Strauss 45 Trott 24) Trott spanks a low full toss through mid-wicket for four. "So will your Missus being moving into the Fun House of you Smyth, Ingle and Booth?" asks Dominic Wright, "...I'm assuming all you guys live together right?" Booth has moved out to the Daily Mail's mock-tudor mansion in the suburbs actually, Dominic. Besides which, I know you're just trying to butter us all up for the ensuing charity plug: "As no one has stuck their head over the parapet with a charity plug can I step up to the plate? I'm doing a challenge to play an hour of real tennis (as opposed to lawn tennis) doubles at every club in the UK in the shortest time. It's 23 courts in three days and 1,200 miles of driving. We're trying to raise £4k for the Multiple Sclerosis Society and details on how to donate are at . Huge thanks to all of you in advance!"
WICKET! Strauss 25 c Kamran Akmal b Aamer (24th over: England 93-2) Aamer is back into the attack and he's struck immediately. This time Kamran clings on to the catch. Just. Strauss, lured into a more aggressive mindset by the more mediocre bowling he's been playing out since Aamer was last in the attack, played a loose drive at a wider ball and snicked it behind.
25th over: England 98-2 (Trott 31 Pietersen 0) Shoaib Malik will get a chance to bowl a little off-spin before the break. His first ball turns, but hardly gets above ankle height. The bounce, Sir Iron Bottom tells us, is going to be getting very uneven by day three. Pietersen over-balances trying to play a fuller delivery from Malik. It looks like he actually tripped over the trough that Trott has dug at that end of the crease. "Couldn't agree more with Roy" thunders Dave Peregrine, "The day that cricket becomes about actually getting things right is the day our sport dies. The referral system is setting a precedent that paves the way for travesties such as an efficient and effective ECB or a meaningful structure for coaching the game in state schools. Don't believe me? Just wait and see. If we allow people at the top of our game to start making the correct decisions, these things will happen!"
26th over: England 102-2 (Trott 35 Pietersen 0) Aamer switches around the wicket to bowl to Trott, who squeezes an edge past the slips for four to bring up England's 100. What bowling! Aamer whips the next ball back in the other way towards Trott's pads. He totally fails to pick it and to me that looks plumb enough to prompt a gasp of "that must be out", but the umpire's finger stays down and, bafflingly, Pakistan don't bother to appeal or even refer the decision. That's a poor decision, because Hawkeye agrees with Bull - it was out.
27th over: England 103-2 (Trott 35 Pietersen 1) Asif returns for an over at Pietersen before the end of the session. KP takes a single, Trott survives the final ball and that's that. The players walk off, leaving Trott scratching out his guard in the middle. "Got to agree with Roy Allen there," says Robert Wickes (anyone out there sense that I'm shaping this debate to my will by picking all the emails I agree with and omitting the ones I don't? No? Good.) "The Laws of cricket are built around the statement 'If, in the opinion of the umpire.....'. What is unclear about that? It's black and white. Absolute accuracy has never been required. This need for certainty is unfortunately spawned by the football mentality where followers appear to lack the intelligence to understand the concept that it's OK for officials to make mistakes because the laws of the game are not based on fact and as long as the officials are fair, it does not mean you can't enjoy the game."
A very interesting session that. Aamer looked head and shoulders above the rest of the attack. He has bowled eight overs and taken two for 19 so far, and if only Pakistan had referred that lbw decision at the end, he would have had Trott too. As it is, Mogodon man, who looks in excellent touch, will bat on into the afternoon session.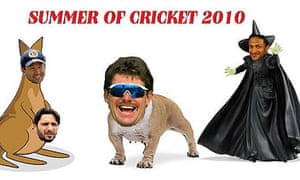 So, John Ashdown will be here to talk you through the afternoon. Make sure you email your nonsense to him and not me. As a parting gift I'm going to leave you this: the latest in the ongoing series of disturbing pictorial representations of the 2010 English cricket season by our old friend, Mr A McGuigan, Enjoy.
LUNCH
Afternoon all. Before I get stuck into the cricket, let me point you in the direction of . It's written by my other half, who ran some race or other, but more importantly it features my photographic debut on the site. See how the pictures are beautifully framed? Isn't the lighting marvellous? And it was bloody knackering carrying that camera round all day. Four hours on my feet, with nothing but the odd cup of coffee, quite a lot of flapjack and the occasional sit down to sustain me.
Returning to Trent Bridge, it's clear that Mohammad Aamer has rapidly become one of the world's must-watch cricketers, the sort of players that excites no matter which mast you've got your colours nailed to - Tamim Iqbal is another who we've seen in England this summer. At times this morning it's been Aamer v England.
Some emails
"With regards to the debate over the referral system, the level of performance of certain umpires has cast ruinous spell over too many tests in recent years," writes Alex Butler. "While Darryl Harper may be an extreme example he isn't the only one at fault, and having the cut and thrust of a good test trumped by a series of howlers necessitates this apparent afront to sportsmanship. "
"It's obvious that Mohammad Amir is the best young seamer in world cricket (unless Steve Finn does a Laker in this match)," writes Gary Naylor, "but, with pace bowling at a low ebb around the globe, he's a Dale Steyn hamstring pull away from being the best pace bowler in the world. Not bad for a kid of 18 who already looks a real thinker as well as an athlete - though someone should tell him how to ask for a referral."
On referrals: I'd like to see us roll back the clock to the 1800s, when contentious decisions would be decided between the Duke of Richmond and the Earl of Arundel over a flagon of ale. Get those two on the big screen at the ground, listen in as they discuss who's got the biggest estate, and then celebrate widly as the pair get up to shake hands and carry on with the game.
28th over: England 104-2 (Trott 35, Pietersen 1) Aamer continues after lunch and clips Pietersen's thigh pad with his first, bringing the ball back in as the batsman attempts to leave. Leave, block, leave, block, leave goes fun-loving swish-merchant IJL Trott. "Fair play to the other half," writes Philip Woodger. "Mine is heading off to walk the in a couple of weeks time. I will be relying on her own photographs to prove she did it. I will catch up on all those lunches/evening meals with mates that I should do all year, or any other ideas?"
29th over: England 104-2 (Trott 35, Pietersen 1) Mohammad Asif returns after a mixed bag this morning and beats Pietersen with a beaut, moving away a fraction just outside off. The fourth cracks KP on the pad - a big appeal is turned down but they've asked for a review ... it's hitting the top of leg-stump, but only just, so not out. He was a long way down the track, which might have been the key. A slightly depsondent Asif fails to make him play with the rest.
30th over: England 104-2 (Trott 35, Pietersen 1) Trott plays and misses at a full wide one, and Flora-gloves Kamran Akmal spills the ball once more. Another maiden for Aamer, whose figures now read 10-3-19-2. "So let me get this straight, Tough Guy," begins John Sanger. "Your delightful ladyfriend ran through fire, crawled under barbed wire, battled with nettles and various other hardcore manliness-testing activities and emerged unscathed. While you ran around the edges taking pictures of her? Then complained about not getting to sit down?" It wasn't that I couldn't sit down - I did, but the grass was a little damp.
31st over: England 108-2 (Trott 35, Pietersen 5) After a string of dots KP gleefully accepts a full, wide one from Asif and spanks a cracking boundary. But next up it looks like Asif has found the edge - there's a definite noise. Umpire says not out, Pakistan say let's have another review ... Not out. KP clearly clipped his pad with the bat, which produced the noise, but there was clear daylight between bat and ball. "Before I mention the cricket, have you seen some of the pervy comments being uttered about your missus in the blog section of her piece?" begins Ranil Dissanayake. (Yes I have and feel somewhere between proud and disturbed). "Aamer is a glorious prospect, but as I mentioned to a friend recently, Ishant Sharma looked every bit as good for his first two series' and in the words of Frank Drebin, he's now 'just a bad joke, and not even a very good one at that'. Let's let the lad get to 100 wickets before we give him the golden crown."
32nd over: England 113-2 (Trott 35, Pietersen 9) "Pakistan are now at the mercy of the umpires," says Ramiz Raja on Sky Sports, a slightly odd way of looking at it. Pietersen mis-times a cut/drive, but then gets a feathery tough as Aamer drifts down the leg side and picks up four cheap runs. Aamer bites back by beating the batsman once more with a tremendous, prodigously swinging delivery.
WICKET! Pietersen 9 b Asif (England 116-3) "Is the match referee allowed some discretion over reprimanding fielding sides for slow over rates when Trott is in?" wonders John Starbuck. I have to say I don't know, although Pakistan have done their best to negate his compulsive wandering and scratching by simply turning around and running in as soon as they get back to their respective marks. Trott neatly places Asif away for a few through the offside, but we've got bails all over the place next up. KP's corridor of uncertainty has been more of a grand palacial hallway this afternoon and the bowler sends the ball skipping down the middle of it, finding the inside edge and sending the bails pinging into the Nottingham sky.
33rd over: England 118-3 (Trott 38, Collingwood 2) Not a great shot, by Pietersen. Rusty is the word on the commentators' lips and it's hard to argue with that. It's your Occam's razor, isn't it? Collingwood gets off the mark immediately with a clip to leg.
REFERRAL! Trott 38 lbw b Aamer Trott is smashed on the pad, attempting to leave.
WICKET! Trott 38 lbw b Aamer (England 118-4) Trott wasn't convinved about referring that, and no wonder. It's going on to hit the top of off, Aamer nipping it back in just enough. Wonderful bowling.
34th over: England 119-4 (Collingwood 2, Morgan 1) So, England rocking after a couple of hammer blows. This is an interesting situation for Morgan to come in to face. 118 for four following two quick wickets - classic Test No6 territory, and, to be perfectly honest, the sort of situation that'll be used as evidence by the doubters should he fail. He's off the mark with a dab to leg. "I see KP's decision to tell Hampshire that he doesn't want to play for them anymore long before the end of the season, prompting them not to pick him, has worked out well," notes Paul Wakefield. "A bit like going to the Nettle Warrior thingy without a plastic chair to sit on."
35th over: England 123-4 (Collingwood 2, Morgan 5) Asif zips one past the outside edge of Morgan's bat, but then strays a little straight trying for the lbw and sees Morgan smite him through midwicket for four. They've complemented each other very well, Asif and Aamer, each offering a different kind of threat, but they'll have to have a rest soon - as a pair they've bowled 24 of the 35 overs.
36th over: England 124-4 (Collingwood 3, Morgan 5) Make that 25 out of 36. Aamer continues, but the two batsmen both look solid enough, with the edge just coming off the pace and swing. And, true to form, as I type "both look solid enough, with the edge just coming off the pace and swing", Morgan edges behind, Lurpak-gloved Kamral Akmal pouches (for a change) and its celebrations all round on the field. The umpires confer and decide it didn't carry, and carry it didn't. Cue a few pantomime boos from the Trent Bridge crowd. "Referral system or not, England are wobbling all over the place," writes Guy Hornsby. "KP's not looked comfortable at all, making Trott's scratchiness look like Goweresque fluidity. This should be a real test for Morgan, with the ball moving around. I don't think you could get any further removed from a ODI flourish full of clattered sixes and reverse sweeps. But I'd like to see him get a big score today. Pakistan's bowlers are coming into their rhythmn. This is what test cricket's all about really, isn't it? Well, that and ."
37th over: England 124-4 (Collingwood 3, Morgan 5) Looking back at that appeal, Akmal hasn't covered himself in glory yet again - all he needs to do is get those gloves a foot further forward and the ball slaps in to his palms (whether it stays there is another issue). But he's on his heels a touch, a little static. Asif rumbles in once more and utterly beats Collingwood with a belter, pitching and flying past the outside edge. Pretty much unplayable that one. Another maiden.
38th over: England 125-4 (Collingwood 3, Morgan 6) Umar Gul replaces Aamer. Morgan pushes confidently for one. Collingwood has hearts in mouths briefly as he hesitantly keeps out a straight one and then again with a big waft with one that's wide but keeps low. Gul finishes off with a yorker. Good over - maintained the pressure that his colleagues have built.
39th over: England 125-4 (Collingwood 3, Morgan 6) Michael Holding is doing some analysis on the low bounce - I'm not really listening to what he's saying, just letting the voice wash over. It occurs to me that I want him to read me Winnie The Pooh stories. At midnight. In the woods. I'm not sure what to make of that. Anyway, Asif beats Morgan after tempting him into an airy swish outside off and then finds the edge, but its one-bounce to third slip. Pakistan very much on top here - just two runs have come from the last four overs. And now we'll have some drinks.
40th over: England 125-4 (Collingwood 3, Morgan 6) Dot, dot, dot, slash (for a dot), dot, ohferchrissakesitsanotherdot. "England may be wobbling here, but this is the same Pakistan attack that bowled the Aussies out for 88, so we're doing better than them. Does that we mean to get keep the Aschhhh... you-know-whats and don't need to bother with the winter ordeal?" writes Robin Hazlehurst. "On another note, if Occam's razor is rusty it won't shave well and will sting a bit, I reckon Occam needs a new blade or a full beard." Occam's electric nasal hair trimmer? Someone call Victor Kiam.
41st over: England 128-4 (Collingwood 4, Morgan 8) Some spin now from Shoaib Malik. This ought to give England a little breathing space and indeed it does, Morgan denting, if not breaking, the shackles with a drive through the covers for one and Collingwood skipping down the pitch and pushing to mid-on for another. Malik has an odd, round-arm action, but does give it a decent tweak, although the threat is pretty minimal, really.
42nd over: England 128-4 (Collingwood 4, Morgan 8) Gul, an often overlooked presence in cricket's bird-based XIs, muscularly strides in once more - Morgan stays solid, but he's not looking hugely comfortable out there just now, prodding, poking and leaving whenever he can. "Re: The lunchtime Nettle Warrior thingy," writes Howard Waddington. "Was that your choice for N on the old alphabet dating or hers? If not yours, might I suggest: 'Nice sit down, with a cup of tea and a biscuit?'" I'm hardly 'Catch of the Century' but forcing my other half to undertake a four-hour assault course, while I sit around and eat flapjack is not on my list of Ideas For Great Dates.
42nd over: England 130-4 (Collingwood 5, Morgan 9) Malik
43rd over: England 131-4 (Collingwood 6, Morgan 9) Malik concedes a hat-trick of singles. "Re. Michael Holding reading Winnie The Pooh. I think that I'd like to hear a cricket commentary team doing the Wind in the Willows, with different commentators doing the various characters," writes Hugh Maguire. "Toad of Toad Hall - Shane Warne, Ratty would be Tuffers, Moley - David Gower and Bob Willis the evil weasel. Any other suggestions from OBOers? We could commission a series."
44th over: England 146-4 (Collingwood 15, Morgan 13) Holy moly, we have a boundary, the first since the 35th over. Collingwood cracks Gul to the cover boundary - and then repeats the trick! More runs in two balls than we've seen in the past eight overs. Gul follows up with a no ball, Asif throws in a misfield and Gul adds the icing by over-stepping once again and then over-pitches and allows Morgan to chip through miswicket for four more. "It might not be Wind in the Willows, but there is an A-Team cast from the commentary?" writes Iain King. "Ian Botham - Hannibal; David Gower - the Face; David Lloyd - Murdoch; Bob Willis - B A Baracas (should have been Geoff Boycott, but he would never pity a fool)."
45th over: England 146-4 (Collingwood 15, Morgan 13) Malik continues, Collingwood keeps it tight. "Blowers on TMS doing The Very Hungry Caterpillar - it would really stretch the tail," reckons John Starbuck.
46th over: England 154-4 (Collingwood 15, Morgan 21) Danish Kaneria returns, having gone for 20 from his four overs this morning. Morgan brings up England's 150, pushing the bowler's first ball behind square for four and then clumping him through the covers as Kaneira overpitches.
47th over: England 163-4 (Collingwood 16, Morgan 29) Malik, arguably, despite his lack of threat, Pakistan's third-best bowler today, continues and Morgan produces with the shot of the session, an elegant dab sweep for four. He follows that up with a crunching drive for four more. "I was thinking that the Sky Team could do a cracking Fantastic Mr. Fox," writes Umran Sarwar. "David Gower of course is the silver fox with Boggis, Bunce and Bean, one fat, one short, and one lean would be (Sir) Ian Botham, David Lloyd and Bob Willis respectively. A thinking man's jackanory. That would be awesome."
48th over: England 172-4 (Collingwood 21, Morgan 33) Kaneria is having a mare here - he lobs up a full toss which Collingwood gratefully thumps away to the boundary. Another single brings up the 50 partnership. Hang on, forget what I said last over, this is the shot of the session - Morgan reverse-sweeps for four, his bat a blur of willow. Surely we won't see Kaneira back for another?
49th over: England 175-4 (Collingwood 23, Morgan 34) These two are pulling England out of a hole here, and Pakistan look pretty toothless without Aamer and Asif. Malik finds himself clipped and pushed around for a trio of singles.
50th over: England 177-4 (Collingwood 24, Morgan 34) Kaneria does indeed come back for more, and continues dragging the ball down short. At least he's turning it, though, which on this occasion makes it a little tricky for Collingwood to take advantage of the bad balls. Just two off the over.
51st over: England 178-4 (Collingwood 25, Morgan 34) Just meandering a little towards tea now - England taking the odd single, Pakistan waiting for Aamer and Asif's batteries to get fully charged. Malik turns the last away from Morgan's groping edge. "To reverse the riff, which children's story favourites would make good TMS presenters?" ponders Robin Hazlehurst. "It would be lashings and lashings of jolly japes for the Famous Five, but it sort of is anyway. I'd quite like Ivor the Engine commenting on a fast bowler coming in on a long run - pshticuff, pshticuff ..."
52nd over: England 180-4 (Collingwood 26, Morgan 35) Kaneria has at last found a little control, but there's little drama for either batsman. "It's no A-Team, but if we're looking at '80s television, what you want is Knight Rider with Aggers reprising the Hoff's Michael Knight role and Boycott as the car that never shuts up," writes Erik Petersen.
53rd over: England 184-4 (Collingwood 26, Morgan 39) That looked very, very close. Morgan attempts a sweep, but fails to make contact and finds himself clipped on the pad. Umpire says not out, but replays show it's pretty plum - Pakistan have to accept the decision, though, their referrals all used up. Morgan gets it right a ball or two later, picking up four. And in other news, the PA system here at Guardian Towers informs me that: "Awooga, awooga, we are investigating an alarm condition. It may be neccessary to evacuate the building. Please await further annmouncements." Oh lovely.
54th over: England 190-4 (Collingwood 27, Morgan 44) Morgan is a gnat's wing away from edging Kaneria behind. Akmal, typically, holds on. The bowler drops short, though, and finds himself flailed through the covers for four. Meanwhile, the alarm sound has changed to "Neeeaaaaah! Neeaaaaah! Please leave the building immediately. Do not use the lifts."
55th over: England 190-4 (Collingwood 27, Morgan 44) Everyone is screaming and running for the exits, but I'm sticking to my post as this seems to be the last over before tea. It's a maiden. Right, I'm outta here before the flames start to lick at my knees. Andy Bull, who'll be delighted that we've moved the discussion on from an intelligent debate about referrals to TMS commentators to childrens' TV characters, will be here, probably, soon.
TEA
Afternoon everyone. Andy Bull here, so make sure you redirect your waffle to me instead of Ashers, whose charred remains are being swept up into a dustpan while I type. What a hero. Ashdown scorned the alarm and stayed at his post to bring you thatfinal over before tea. The alarm is over. Sorry I'm late back. Doesn't look like we've missed much while I've been milling around outside smoking. Eoin Morgan has just brought up his first Test fifty, from 81 balls.
Some sad news from the afternoon: Eric Hill, doyen of the Taunton press box where I learned my trade, has passed away aged 87.
60th over: England 206-4 (Collingwood 33 Morgan 54) Aamer is on after Tea, bowling around the wicket to Morgan, who pats three runs out midwicket-way. Collingwood then chops an inside edge onto his pads, the ricochet just past his stumps, then looks heavenward in frustration at the error. "Re over 53, and John Ashdown's quoting of the fire alarm shouting "Awooga". Could you confirm that John Fashanu did the voiceover for the fire alarm in Guardian Towers. I wondered where he had been since Gladiators/IACGMOOH." Not Fashnu, Pete Hackleton, but Akabusi. We have standards.
61st over: England 208-4 (Collingwood 34 Morgan 55) And at the other end comes Danish Kaneira. How I wish Pakistan had picked Mohammad Irfan for this tour. I've only seen Irfan on youtube, but given that he's 7ft tall, it seems safe - for once - to judge him on the numbers. Imagine how potent this attack would be if you added him into the mix. He's only played 10 first class matches so I imagine they think he is a touch too callow.
62nd over: England 208-4 (Collingwood 34 Morgan 55) Aamer takes a spell and on comes Asif. "According to the excellent urbandictionary.com "awooga" officially started life as a siren before being hijacked by over-enthusiastic sportsmen turned children's TV presenters," says Ken Coupar, "Created and first used by the Awooga brothers, Fash the bash, Kris Akabusi and Craig Charles, Awooga is a sign of excitement, happiness and an utterance of agreement. The phrase originated as a running joke on sci-fi series Red Dwarf in reference to the ship's emergency siren." You know, I think we've had this debate at least twice before on the OBO. I really don't believe that Akabusi plagiarised Red Dwarf. The man is an original talent.
63rd over: England 217-4 (Collingwood 34 Morgan 63) Danish is hauled off and replaced by Azhar Ali. He's also bowling leg-spin, so that switch is really a condemnation of the way Danish has bowled today. Truth is he has been off-colour all season, ever since he was accused of spot-fixing at the start of the summer. This is Ali's first over in Test cricket. He's not got a bad record in first class cricket (35 wickets at 31 each) but he is, Nasser says, bowling "filth" here. Morgan slots one four through cover and slashes another down the ground.
64th over: England 219-4 (Collingwood 34 Morgan 65) The Akmal brothers aside, every single member of this Pakistani team has at least a few first class wickets to their name, so Butt is not short of options. You'd have thought Imran Farhat or Umar Amin would be a better bet than Ali though. Morgan cuts two past point off Asif's second ball. "Tsk tsk tsk" says Kat Petersen, "You're still smoking!" Well, thank you. Honestly, you'll make me blush. What? Oh. Yes. Yes I am.
65th over: England 222-4 (Collingwood 34 Morgan 68) "Spot-fixing" writes John Sanger, "what the hell is it?" It's simple John. It's the same thing as . Clear? No? Fancy / spot fixing is illegal betting on minor details of matches - how many fours in an over, or how many no-balls in an innings, etc etc. For more detail go and read this . Danish is back on now. I wonder if Azhar will ever get another Test over?
66th over: England 228-4 (Collingwood 40 Morgan 68) "Kris Akabussi stole his laugh of a hyena who'd drunk three bottles of old spice," reckons Paul Longden, "on that basis Im sure he's not beyond ripping off Lister." Moving swiftly on, Collingwood has just chopped four runs past his own stumps off the under-edge of his bat. The camera cuts to Ken Clarke, making no effort whatsoever to stifle an almighty yawn in his VIP box. Speaking of politicians, I see Cameron has been harping on about his childhood love of Sir Iron Bottom to try and break the ice in India: :Addressing employees of a software firm in Bangalore, David Cameron connected by mentioning Ian Botham, whom he called his childhood idol. "Many of you in this room would have grown up revering Kapil Dev. I did the same with Ian Botham," Cameron said." Rather. Beefy will be pleased.
67th over: England 230-4 (Collingwood 40 Morgan 68) Morgan steps away to leg and cuts a single out to deep point. "Ah, so we can judge Irfan purely on the fact that he's 7 foot tall?" scoffs Rob Marriott, "Well, my brother's 6' 10", so presumably he should be picked for England. Admittedly, he won't get the ball within ten feet of the stumps, but still, judge him on the measurements, eh?" Look, I just want a ticket for the show, that's all. I mean, who doesn't want to watch a 7ft fast-bowler in action?
68th over: England 234-4 (Collingwood 44 Morgan 69) Collingwood is playing a desperately ugly innings here, scratching and scrabbling around, poking and edging. He does pick Asif's slower ball in this over, and whistles it away for four. "I used to work for a rival broadsheet and Cameron appeared in the office one afternoon," says Iain Gray, "I have never seen a more orange man in my entire life. He looked like a cross between the You've been Tangoed happy slapper and the contents of the briefcase from Pulp Fiction. Anyway, that aside, the Indian software firm which he is speaking to today built our . Any chance of a cheeky plug - it's for a really good cause."
69th over: England 238-4 (Collingwood 47 Morgan 72) I seem to be lagging behind in both overs and runs, so excuse me if I hurry straight through this over and onto the next.
70th over: England 240-4 (Collingwood 48 Morgan 72) Umar Gul comes back into the attack. "Cameron, that massive cricket fan," scoffs Ken Coupar, "who addressed Collingwood as Colin Wood at the reception for the T20 players!" Depressingly enough, that's a true story. Gul is coming around the wicket to Morgan here, pushing the ball out wide of off stump. The next delivery is a huge no ball.
71st over: England 242-4 (Collingwood 50 Morgan 72) More atrocious cricket from Kamran Akmal, old iron gloves himself. Collingwood should have been out, stumped by a country mile after skipping down the pitch and swinging like Benny Goodman at a delivery he got nowhere near. All Akmal had to do was gather the ball from in front of his stomach and knock off the bails, but he bungled it. Collingwood turned back and grounded his bat, and then, moments later, brings up his fifty by shovelling two runs away square. Is there really not a better 'keeper in Pakistan than this chap?
72nd over: England 252-4 (Collingwood 52 Morgan 78) "Re: Cameron and his Botham-worship. This is the same man who claimed that The Queen Is Dead was his favourite album and that he loved Eton Rifles," points out Steve Johnson, "Any similar claims should be judged in that light." Pakistan do have a reserve wicketkeeper on this tour, though I can't say I've ever heard of him. His name is Zulqarnin Haider. You'd think that if they were so keen on keeping Kamran in the team they could pick him as a batsman alone, especially as they have two such callow players in the middle order. That would, I suppose, leave them with a very long tail. Morgan strides out to square drive four away through cover, a lovely shot and one which prompts high praise from Shane Warne.
REFERRAL! Morgan 78 lbw Kaneria (73rd over: England 257-4) Morgan is beaten on the inside edge by a leg-break from around the wicket by Danish. Asoka de Silva gives it out, but after a quick conference with Collingwood Morgan decides to refer the decision. Hawkeye shows the ball was turning too much and would have beaten leg-stump, so the decision is overturned and Morgan survives. A drinks break follows, and when play resumes Morgan immediately hits four through the off side, just to rub it in.
74th over: England 266-4 (Collingwood 58 Morgan 86) Gul's length falls a little short so Collingwood cuts four more away square, and then Gul drops shorter still - if straighter - and this time Colly pulls the ball away the other side of the wicket. It is just cut off on the boundary, so they only get a single from it, but it was a top shot. Gul's response? His shortest delivery yet, a genuine bouncer, which Morgan throws a pull at. He fails to connect, and Pakistan appeal half-heartedly for the catch behind. In the commentary box Warne and Atherton are discussing Andy Flower's 'revolutionary' use statistics and how he was influenced by Michael Lewis' Moneyball. The funny thing is that John Buchanan, who Warne has very little time for, has been It's called sabermetircs fellas, and it has been around a long time.
75th over: England 271-4 (Collingwood 62 Morgan 87) Another ugly full toss from Kaneria. Collingwood has had too many struggles in his time to miss out on a ball like that, and he dispatches it to mid-wicket for four with all due haste.
76th over: England 273-4 (Collingwood 63 Morgan 88) "Interesting comments on the use of sabermetrics," says Tom Hopkins, "On a similar theme – who are your favourite cartoon characters (I like Willo the Wisp)?" You'll have to supply your own knowing wink there, otherwise that comment will make no sense. Morgan cuts away another single. Pakistan are really drifting towards the new ball here, which is now four overs away.
77th over: England 278-4 (Collingwood 63 Morgan 93) Morgan throws a loose drive at Kaneria's first delivery and misses the ball altogether. It bites and breaks back through the wide open gate, which sparks a lot of optimistic noise from Kamran Akmal if no one else. Later in the over Morgan creeps on into the 90s with a glorious sweep for four. "Not a bad ball," opines Iron Bottom, "but just a wonderful shot." There are plenty of people who will be penciling Morgan onto the list for a plane ticket to Australia this winter this evening, never mind that this is first day of the series and that he would have been out before he had double figures if only that outside edge had carried an extra inch earlier today.
78th over: England 281-4 (Collingwood 64 Morgan 94) Shoaib Malik fills in for an over while Mohammad Aamer starts warming up, getting himself ready to take the new ball. Morgan and Collingwood trade singles.
79th over: England 287-4 (Collingwood 69 Morgan 96) Morgan wallops a slog sweep past the head of the terrified short leg. His suffering is not over yet: the single puts Collingwood on strike, and he thumps the next delivery straight into short leg's gut. And then Collingwood slices an edge away for his ninth four. Salman Butt whistles in exasperation and runs his hands through his hair. He looks like a man who has had a very long day.
80th over: England 295-4 (Collingwood 69 Morgan 102) Call it moxie, call it chutzpah, call it brass, call it what you want. With four runs needed for his first Test century, Eoin Morgan has just lofted a straight six back over Shoaib Malik's head. He tugs off his helmet and waves his bat at the dressing room, a broad smile spreading across his face. The Ice Man has arrived. "It's slightly odd," says Alex Netherton, "but I trust Morgan less having seen him excel in 20-20. If this was ma first sight I'd love him."
81st over: England 297-4 (Collingwood 71 Morgan 105) Bafflingly, Butt eschews the new ball. Mohammad Asif is in a right funk in the outfield. He's shouting in at Butt, and turning his palms up skywards as if to say 'what the hell are youy playing at?' We get more Kaneria then, who is bowling has become as bland as low-fat mayonnaise on sliced white bread.
82nd over: England 304-4 (Collingwood 71 Morgan 112) Asif's strop has paid off. The bowlers gather in the middle and pressgang Butt into taking the new ball. Asif starts his first over back into the attack with the old ball, just to get loose, but when Morgan eases away a deliciously crisp four through extra cover Asif finally takes the new one off the umpire. Here's Will Bowen, indulging in a little mind-reading: 'Morgan's internal monologue: 'Eat your heart out Pietersen - that's how you bring up a ton without making a tit of yourself!' Morgan on the record: 'Shame KP couldn't make hay today'." I think you missed out ther bit where Morgan says '... but obviously he is a top player and we all know that a big score is just around the corner for him.'
83rd over: England 304-4 (Collingwood 71 Morgan 112) "Not to be excessively cynical, but I have a tiny suspicion that Morgan's haste to get his century might have had something to do with the age of the ball. Picking up the last few against Aamer wielding a new nut would be mighty tricky." I don't think that's cynical at all Andrew Thomas, just shrewd, on your part and his. Here is Aamer, and you imagine that life is about to get much tougher for these two. And so it goes: Aame rips two deliveries past Collingwood's outside edge.
84th over: England 310-4 (Collingwood 71 Morgan 118) Asif has been strangely slothful in his bowling today, his pace down in the mid to high 70s and the ball hardly carrying. "He's good this Morgan," purrs Warne as another four whistles away through cover, "he looks like the real deal this kid, he's hardly even broken sweat yet, he's going to be an England player for a long long time to come." Praise doesn't come much higher. But then Warne did say the same thing about Dimitri Mascarenhas.
85th over: England 313-4 (Collingwood 72 Morgan 119) "Do you think Smyth has exploded in a hot funk of man-love over this ton?" asks Eddy Nason. I can confirm that he has done exactly that Eddy. I have fresh sticky email evidence in my inbox, calling me a lucky swine for getting to do the "the boy's first ton". He has batted well today and no word of a lie, but Aamer aside Pakistan's bowling has been mediocre at best. Danish, in particular, has been woefully poor. His 21 overs have cost a round 100 runs.
86th over: England 315-4 (Collingwood 72 Morgan 119) Umar Gul gets a go before the close, coming in wide of the crease a bunging a loosener down the leg-side. Collingwood leaves the next, though it shaved splinters from his off stump on its way through. Collingwood grins back at the bowler in acknowledgement of his good luck. He's bowling well here, Gul. He cuts his third ball back off the pitch and past Collingwood's dangling bat, leaving Colly whistling through his teeth in appreciation.
87th over: England 320-4 (Collingwood 76 Morgan 119) Collingwood goes marching on towards the close, hammering four through extra cover as Aamer's line drifts short and wide. That's about as bad a ball as he has bowled today.
88th over: England 323-4 (Collingwood 76 Morgan 122) Morgan flicks two away to leg and then steers a single out square. He is making it all look very easy now, as though he'd been doing this all his life. Gul rouses himself to make one more lbw appeal against Collingwood, though he knew that there was an inside edge on it, as he said to the umpire afterwards. Sky are running through England's selection conundrum, which has been made a lot more complicated by Morgan's innings today. Bell, Morgan, Bopara and Trott - who misses out? The answer, some people seem to think, may be Alastair Cook... Not that I see it that way myself.
89th over: England 326-4 (Collingwood 77 Morgan 124) That would mean Trott being pushed up to open in Cook's place. Umar Amin has come on now, just to take us through to the close in a nice unthreatening manner. And so he does, serving up six 70mph dobbers.
90th over: England 328-4 (Collingwood 82 Morgan 125) The last over of the day goes to Imran Farhat, dabbling in a little bit of leg spin. Butt is trying to winkle out a wicket here, hoping that one or the other of the batsmen will be lured into making a lazy error. Morgan takes a single and lets Collingwood play out the over, pausing to indicate to his partner - with a flick of his wrist - that Farhat is bowling leg spin. Collingwood cannae be bothered blocking out the final few balls, and heaves four away to square leg. There is one alaraming twist before the close though - Farhat's penultimate ball stays so low it bounces twice before it reaches the keeper. This pitch is going to get very tricky to bat on indeed.
So Morgan leads the players off the pitch, treated to an ovation from the crowd and his teammates as he goes. He and Collingwood have put on 213 today, a record for the fifth wicket against Pakistan, and early as it may be in the match, it's hard to avoid the feeling that may be a match-winning stand. We'll see what happens tomorrow...